Here are some really cool videos of all the cheering at our rivalry games I wrote about previously.
Some intense cheering (I have no idea who the boy in the end of the film is, but thanks for posting the video on YouTube!)
This is our main cheer: "Saranghada Yonsei" = "I love you Yonsei"
Recognize this tune?
Our promotional spirit commercial for the Yon-Ko-Jeon.
This is our awesome amphitheater on campus. I love going here at night...
In other news, my friends and I also attended the International Fireworks Festival on the Han River. Here are some lovely photos for your viewing pleasure...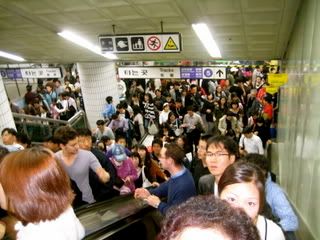 SO many people went, so the subway lines were PACKED. It took us 20 minutes just to get off the train and out of the exit.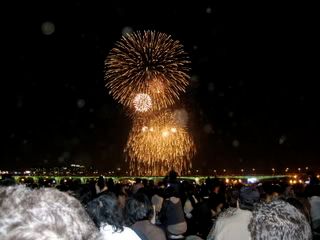 They shot off the fireworks over the Han River- the view was awesome.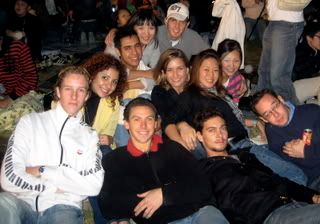 The whole group of us: (clockwise from top) Pasha (Russia), Beth (New York City), Sven (Germany), Max (France), Les (Australia), Sascha (Netherlands), Maricarmen (Mexico), Manuel (Mexico), Daina (Korea), and Jan and I in the center!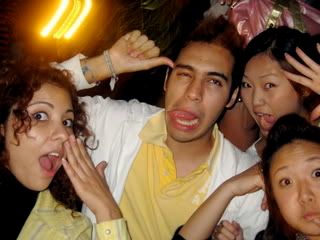 This picture is... brilliant. (Left to right): Maricarmen, Manuel, Beth, Jan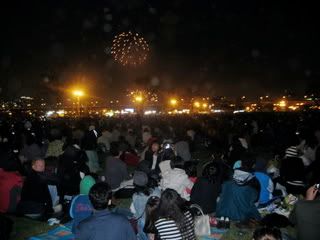 All those Koreans enjoying the fireworks...
Pasha, myself and Manuel waiting for our food after the fireworks... we were SO hungry!!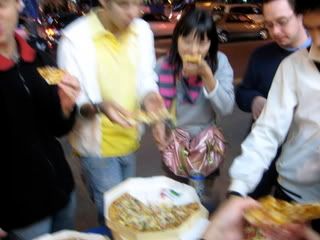 Pizza here is expensive but SO good!!!!
But in case you thought I was just having a ton of fun and not doing anything productive, you are SO wrong. I have four English students now and am working every single weekday. My students are Yoon (8-year-old girl), David (8-year old boy), Miki (David's 6-year-old brother), and Sun-soo (David and Miki's mother).
It is a TON of work to plan four unique lessons for each student, but I'm really enjoying it. Korean kids really do have an amazing work ethic, from what I've seen so far. However, I'm made slightly uncomfortable by the level of respect they give me. With my students at home in dance classes, or guard, or anything, I like them to be really comfortable with me so that we can have more fun and learn less restrictedly. I suppose this is better, of course, than teaching a bunch of brats, but it still is awkward to be called "Sonsaengnim" (Miss Teacher) instead of EVER being called Maggie.
It is nice to have some extra money, though it's been shelling right back out to my break-dancing lessons (yes, I know...) and to the ticket I just bought to Thailand. I have a few days off from school, so about 6 of my friends and I are going for a long weekend. I am SO excited to travel a bit- hopefully we'll be able to drop into Cambodia for a day or two as well, as it's only a $10 bus ride out of Thailand.
Anyway... I am off to study... my first exams are coming up!
Love love love my life...