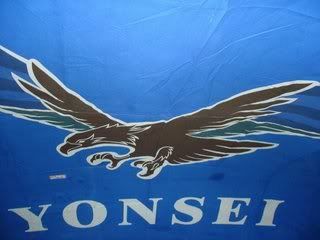 Ah, I'm so tired! This weekend was Yonsei's rivalry weekend against Korea University, and the entire school went rabid with pride. Here, they play all sports in all seasons, so there were basketball, baseball, hockey, rugby, and soccer games. In between, there were also a bunch of festivities..
Luckily, it was a gorgeous weekend. Above is the view I had of the Han River on my way to the hockey match on Friday night.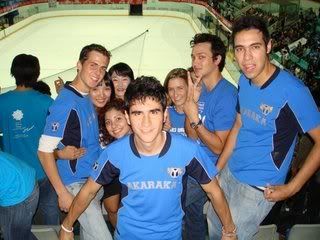 Every Yonsei student repped the blue shirts this weekend. Here I am doing just that at the hockey game with my friends (clockwise from bottom) Roberto, Maricarmen, Pasha, Daina, Daina's friend whose name I forget, me, Jason, and Manuel.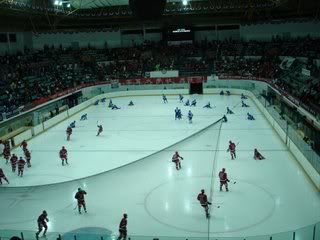 The hockey team warms up as the crowd cheers and cheers and cheers...
On Saturday, we went to the Seoul Olympic Stadium (!!) to see the rugby and soccer games. Here are Jan and Jesus heading in with the other fans.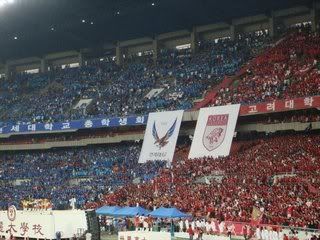 The ENORMOUS stadium was packed full of Yonsei and Korea Dae fans. The Yonsei Eagle fans are in blue, while the Korea Dae Tigers are in red. Each university has about 20 different fight songs and chants that EVERYONE knows. Instead of having cheerleaders like we do back in the states, there is a stage at the base of the stands with a REALLY animated set of performers who lead the crowd and show what dance moves to do while a sound system blasts the songs that the crowd is singing. And we sing and dance, NON-STOP. Some people complain that it distracts too much from watching the game, but at least Maricarmen and I love it (see below).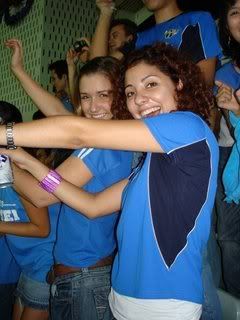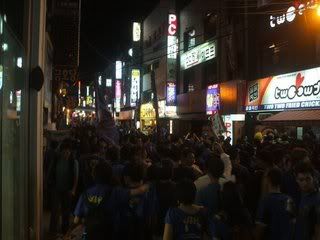 After the games were all finished, the main roads of Sinchon (the district that Yonsei is in) were all closed off so that the college kids could party. If you went around in a big group and cheered in front of stores, you could get free food and drinks pretty much all night.
After all of this, it's Sunday night and I am exhausted and doing homework in the lounge with my friends. I love life here...